INTRODUCING Contender CrossFit
Meet the fitness experts ready to help you achieve your fitness goals.
Our team of fitness and nutrition professionals are invested in your health. We make every decision with our members' well-being in mind. Achieve your goals with us!
OWNER
Ervin Martinez
Ervin is an Owner, Head Coach, and Nutrition Consultant at Contender CrossFit. Prior to opening the box, Ervin spent over a decade in the military. It's where he learned the importance of fitness on and off the battlefield. Later, he was eager to find a new challenge, so he started researching CrossFit.
After a year of training, Ervin quickly realized what he wanted to do the rest of his professional career. As a coach, Ervin aims to help athletes tap into their full physical potential. In order to achieve maximum results, you must align your body and mind. "I love studying the psychological aspect of fitness and nutrition. Creating programs that truly deliver is the ultimate reward." Certifications: CrossFit Endurance CrossFit Level 2 OPEX Level 1 USA Weightlifting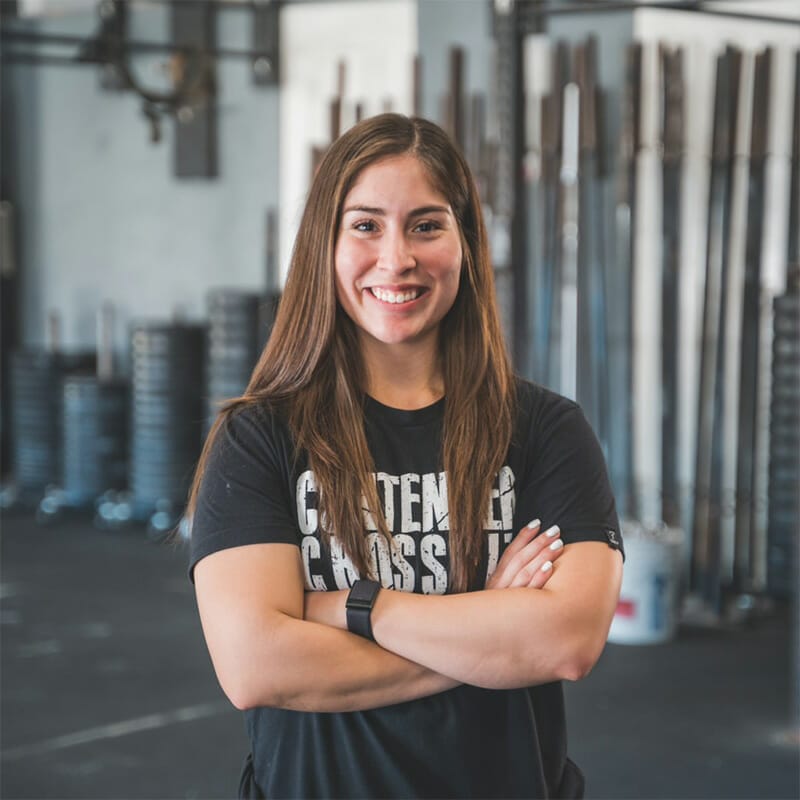 General Manager / Head Coach
Celestial Banda
Originally from Kingsville, Texas - where she graduated from Santa Gertrudis Academy High School in 2016, Coach Celestial Banda (Coach C) played college softball at Trinity Valley Community College (Athens, Texas) 2016-2017, Huston-Tillotson University (Austin, Texas) 2017-2018, and Texas A&M Univeristy - Corpus Christi (TAMUCC; Corpus Christi, Texas) 2019-2020.
Her goal is to bring education, knowledge, intention, & application to different realms of fitness (CrossFit & sports) within south Texas. She has a passion for making her home more aware of the benefits and outcomes to life filled with quality through movement and mindset. Certifications: TAMUCC M.S. Exercise Science CrossFit Level 2 Trainer (CF-L2) ACSM Certified Exercise Physiologist (ACSM EP-C)
Full-Time CrossFit Trainer / CSM
Yasminda Serrano
Yasminda has always had a love for movement and was intrigued by exercise & the human body; however growing up she had limited guidance in this area. Throughout her life she played in different areas of dance such as High School Pep Squad & Dance Team, Folklorico Dancing and Middle Eastern Dancing.
She loved dance but was guided down a more conventional route of pursuing her degree in Finance and working in Corporate America for nearly 2 decades. Living a mainly sedentary lifestyle while eating the Standard American Diet and working on a computer for 8+ hours a day was really impacting her health causing excessive weight gain, low energy, lack of confidence and much more. Looking to just lose some weight Yasminda joined Contender CrossFit with the guidance from a Coach & Mentor. Unbeknownst to her this moment would change the rest of her life, not only physically but mentally and emotionally. "Prior to coming to Contender I worked out at a gym, did some dance classes, boot camp and kickboxing stuff but never really knew much about weight training. At Contender, I found this community like no other who helped me discover depths of myself (both in the physical & mental aspect) that I never thought were possible. This stuff is life changing and I knew I needed to dedicate my life giving back to others the life that I was given back, so I took a chance & made a career change. I love people and truly want to see others excel and live a life of fulfillment; taking control of one's health is a major part of that and I am ever so grateful when someone lets me be a part of that. " Certifications: CrossFit L1 Precision Nutrition L1 Birthfit Coach OPEX CCP L1 CHEK Holistic Lifestyle Coach L1 CHEK Holistic Health & Performance for Women
Full-Time CrossFit Trainer
Sebastian Banda
Coach Sebastian Banda was born and raised in Corpus Christi, Texas - graduating from King High School (2016). He started his CrossFit journey in 2015 - hoping to get stronger, better, & faster for high school sports. He quickly fell in love with the sport of CrossFit itself & has dedicated the majority of time since then, to be the best version of himself possible.
Along the way, he found that inspiring others to do the same was something he wanted to do for the rest of his life. 'I love helping others, especially when they want better for themselves! The hardest part is walking through those doors. Once you are in, you will never want to leave! Trust the process! Certifications: CrossFit Level 1 Trainer Online
CrossFit Trainer / Head Coach CrossFit Kids
Bailey Volkmann
Originally born in Corpus Christi, Texas, Bailey graduated high school from Gregory Portland High School in 2017 and graduated college at Texas A&M University-Corpus Christi in 2022 with her Bachelor's in Exercise Science. Bailey's goal for coaching is to spread knowledge about fitness and how important it is in our daily lives.
With her knowledge and experience, she wants to provide endless opportunities and inspire people to reach their goals in their fitness journey. She is passionate about fitness because it has always had a huge impact on her life. It has given her a great perspective on her own health, wellness, and overall life. She wants to be able to help others create the best version of themselves through fitness as it has done for herself!
Assistant Head Coach of CrossFit Kids
Daniella Wyszynski
Coach Daniella Wyszynski started her journey with us as an athlete! Originally born and raised in Jackson, Tennessee, she graduated from Crockett County High School. She then graduated from Jackson State Community College with a Biology degree. She is currently enrolled at Southern New Hampshire University pursuing her Psychology degree!
Dani's motive for coaching kids is to create a community for these younger athletes – a place where they can become their greatest self through functional fitness. When she first started her journey into CrossFit, she loved working out in the classes and having a community to workout with! Everything was taken care of as far as the programming, the class flow, and the environment. All she had to do was show up and put in the work! She wants to create that for those as little as 4 years old and up! She would tell a first-time CrossFitter that CrossFit is fun and for everyone! Everything is scaleable – to meet everyone's needs – and everyone she has been surrounded by has wanted her to succeed! This has helped her journey not just physically, but mentally as well! She wants that for all her athletes!
Book a Free Intro at Contender CrossFit today. Chat with a coach to learn more about how we can help you reach your goals.